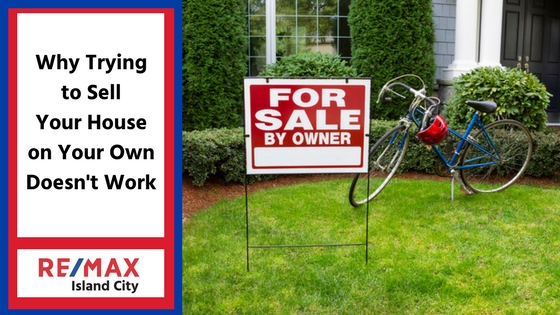 Why Trying to Sell Your House on Your Own Doesn't Work
Let's face it: we live in a world where it's become incredibly easy to do just about anything on your own. Social media has given us unparalleled access to the entire world in ways we've never before seen. Everyone has a voice, everyone has the ability to create a business, and everyone has the ability to communicate and research.
If that's the case, why do you need a real estate agent? Can't you just sell your house on your own? You could, but it would be a really bad idea. Discover why you need a real estate agent, why many people have discovered that trying to sell your house on your own doesn't work, and where to find help.
Why You Need a Real Estate Agent
More people are trying to do the "for sale by owner" route with their home sales today than ever before. There's a slew of services online that claim to help home sellers complete transactions on their own. These services claim they save you money and that you don't need an agent. Using them is also a bad idea.
Selling your house is a major undertaking, and it requires a broad range of knowledge and specialized skills to pull off without troubles. Real Estate agents are an important part of that transaction, and if you're wondering why you need a real estate agent, here's a few solid things to consider.
Convenience and Access
First of all, a real estate agent saves you a great deal of work. They do all the hard parts—acting as a go-between for the buyer and seller. They get the voluminous paperwork together, and they can walk you through the complexities of the negotiations and transactions.
They also have access that no service can provide you. They've got connections with many realties, with other agents, with home inspectors, with mortgage professionals and everyone else you might need in your quest to sell your house.
Expert Negotiators
Negotiations are a lot more than just knowing how to stand your ground. They're a complex back-and-forth dance, especially with huge transactions like this. An agent knows how the game is played, and they know how to help you negotiate effectively. They know when the buyer is asking for something unreasonable, and they know how to counter. They're your best friend and advisor, and they will get you the best offer for your property.
Navigating Legalese
Have you really looked at the paperwork involved in a real estate transaction? There's a reason why closing can take a couple of hours, and trying to understand these documents on your own, without training and experience, can be a migraine at least. Realtors know how to deal with this paperwork, what it means, and they can walk you through it smoothly.
Avoiding Critical Errors
Most DIY real estate services, in the end, don't save you money. You're going to spend more in costly mistakes, learning curve, and getting lowball offers on your house than you save. A realtor will sell your home faster, more smoothly, and usually get a better price for it in the end.
Re/Max Northstar
If you're in the Cumberland, WI, area, and are looking to sell a home, Re/Max Northstar is here. Give us a call today to see how we can help you.