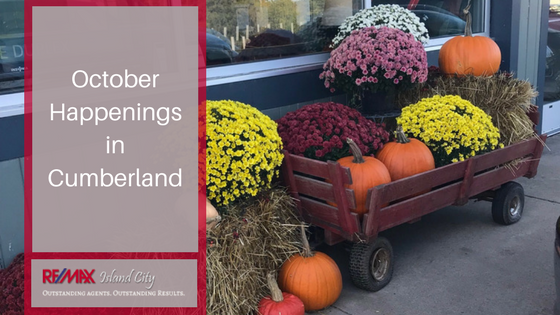 October Happenings in Cumberland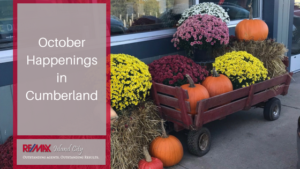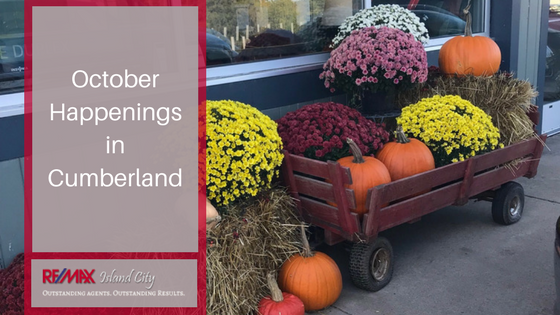 Cumberland is a great place to live and work, and it shows in all of the festivals and activities that go on throughout the year. As the harvest season approaches, along with the spookiest month of the year, there's tons of fun things to keep you occupied around town. Check out the tons of family fun, educational and festive happenings and things to do in Cumberland for visitors and tourists alike this October.
Things to Do in Cumberland This October
There are so many fun things to do in Cumberland in October that the hardest part is narrowing down the list. A few of the most popular events, however, are the Scarecrow Contest, the Pumpkin Giveaway, Halloween Trick-or-Treat events, the Haunted Trail, the Guys and Does event, and a range of Cumberland Community Education classes!
Scarecrow Contest
Every year across Cumberland, local clubs, groups and merchants build scarecrows which line the main street of the business district. People come from all over to look at the results, take pictures and vote for their favorite scarecrow!
Pumpkin Giveaway
Every year, Cumberland "royalty" host a pumpkin giveaway as part of the town's annual harvest celebrations. Check it out and see if you can get a pumpkin of your own!
Trick-or-Treating
It wouldn't be Halloween without trick-or-treating for the kids, and Cumberland values the fun celebration of this yearly holiday. That's why we hold safe Trick-or-Treat on October 28, from noon to 2pm. Kids can travel the main street and visit local merchants partnered with the Cumberland Fire Department to hand out candy and treats, while firefighters are on the scene to keep traffic controlled and everyone safe!
On Halloween from 5-7 PM at the Cumberland First Lutheran Church, visit our Trunk or Treat event, where our parking lot is full of cars handing out candy. Inside, there's even a party with snacks and treats!
Of course, regular trick-or-treating is permitted on October 31 throughout town as well.
Haunted Path
Join the fun every weekend starting October 13 for our Haunted Path event at the Barron County Fairgrounds. Held from 5 to 9 PM Fridays and Saturdays, come visit the haunted house and get treats from all the unmasked actors within. Also available is face painting, and your kids can get inside a real fire truck and police car!
Cumberland ETC Guys and Does
Guys and Does is a community theater event sponsored by the Cumberland Enrichment Through Culture group October 26-28 at 7PM and November 2-4 at 7PM. Come watch the misadventures of Fritz as he takes his daughter's off-the-wall boyfriend Duane on an annual hunting trip, only to deal with a talking white deer asking for help and refuge from another hunter!
Cumberland Community Education
From self-help to exercise and working out, arts and crafts and more, the Cumberland Community Education group provides all kinds of self-enrichment classes for the community. Check out their Facebook page for details!
These are just a few of the fun activities and things to do in Cumberland every October. Don't sit home this fall — get out, meet new friends, and get to know the community!