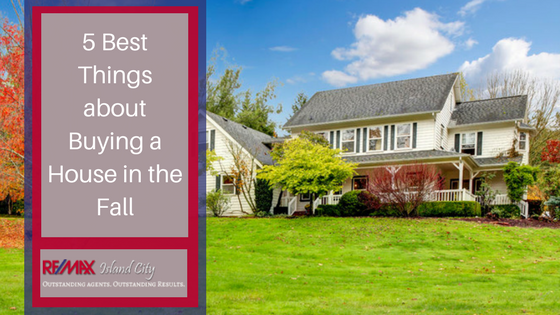 5 Best Things about Buying a House in the Fall
While many people do home shopping in the spring, there's a lot of reasons why buying a home in the fall is far preferable. It may go against conventional wisdom, but it's true. Here are the five best things about buying a house in the fall, and why you might think about this season to start your search for the home of your dreams.
Buying a House in the Fall
Conventional wisdom says that spring is the best time to buy a house. It used to say it was the perfect time to get married, too, but this year marks the first time that October is the most popular month for weddings. With a bit of thought, people might realize that buying a house in the fall is also better than in spring! You might want to get in now, though, before everyone works out the secret.
Competition is Down
If you buy in the fall, there's much less competition. This means you're less likely to get involved in a bidding war for your home. In fact, while fall is considered an off-season for real estate, there's often just as many homes on the market at this time of year, and they might be much more likely to hear your bids.
Owners Eager to Sell
Because there's less competition and less people looking to buy, sellers are eager to get their homes off the market in the fall. Whether it's because the house has been on the market throughout the summer, or they're moving to another town for work, or whatever reason, sellers in the fall are eager to make the move, which gives you an advantage in negotiations.
Tax Breaks for Fall Real Estate
If you're a first-time homebuyer, you may not be aware of this one. When you buy a home, you get to deduct property tax and mortgage interest from your annual income tax. That means, even if you close in December, you get to deduct all payments you make prior to the closing of the loan, equating to potentially large savings.
Get Focus from Your Realtor
A good realtor will always be there to give you the focus you need when buying a home, but buying in the fall means their attention is less divided, as they'll have fewer clients all looking at the same time. That will give you even more focus, and an eagerness from your realtor to find you an outstanding home.
Decorate on a Budget
Buying a home is a huge purchase, and you may be worried about spending more money to decorate your home. In the fall, you can take advantage of year-end sales to help decorate your home and give it those finishing touches you may not be willing or able to afford at other times of year!
These are just a few of the reasons home buying in the fall is a great option. If you're looking to start your search for Cumberland real estate, contact Re/Max Northstar and let us help you find your dream home today!