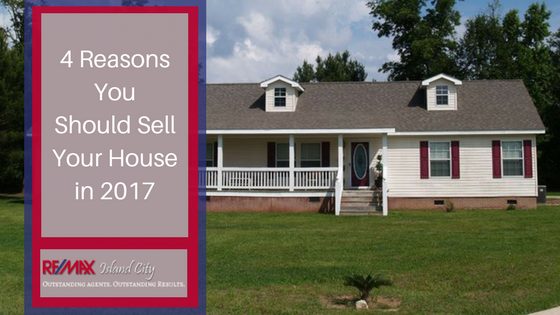 4 Reasons You Should Sell Your House in 2017
One of the biggest questions people have when they think about moving is when to sell their house. It goes beyond seasonal — the question also arises year to year. Where is the real estate market right now? Is this a good time to sell? Should I put the home on the market immediately or hold off?
2017 is actually a perfect time to get your home on the market, with some analysts even saying you shouldn't wait at all. Check out these four reasons to sell a home this year, why 2017 is a perfect time to sell, and what to consider as you place your house on the market.
Reasons to Sell a Home in 2017
If you're looking for reasons to sell a home in 2017 as opposed to reasons to sit on that piece of property awhile longer, look no further. Between low mortgage rates, high demand with low supply, rising property values and strengthening job markets, there's a peaking seller's market for real estate in Cumberland and across the country.
Low Mortgage Rates
Despite efforts to raise them, and a steadily increasing economy, mortgage rates for real estate are still really low, making it an ideal time for buyers to try and secure financing for their next home. What that means is that people are looking to buy right now. Mortgage rates are just starting to tick up over 4%, though, and could hit nearly 5% by the year's end.
Low Supply, High Demand
Even as home buyers are looking to get in on their next real estate purchase, the supply of homes on the market remains low. People aren't selling, which means if you do sell, you're likely to get a lot of interest. Homes in a market like this tend to move fast, and there can even be bidding wars, which leads us to the value of your home.
Home Values on the Rise
Property values continue to skyrocket, climbing steadily. In November of 2016, the median cost of a single-family home across the nation was $234,900, which is up 6% from a year earlier, and represented the 57th straight month of annual gains. This also means many homeowners who may formerly have been underwater are now sitting on equity.
Strengthening Job Markets
Unemployment continues to decrease, and wages are beginning to increase across the board. This leads to increased security and consumer confidence, which in turn creates a cycle of higher spending on everything, including real estate. Again, that's good news for sellers, as it means more people looking to buy, contributing to the high demand.
These are a few strong reasons to sell a home in 2017. If you're in the Cumberland, WI, region and you're thinking about putting your house on the market. Re/Max Northstar is here to help. Give us a call for more information or to get started today!