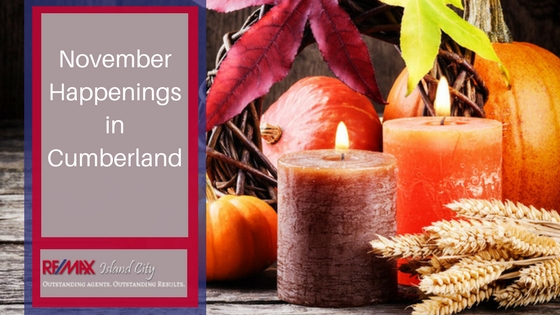 November Happenings in Cumberland
One important aspect of moving to a new area is finding out what's going on in the neighborhood. Local events, festivals and happenings allow you to get to know the neighborhood, meet new people and make new friends. It's unfortunate that it isn't easier for people to find resources on the Internet to allow them to quickly see what's going on at any given time.
Fear not; if you're looking for great seasonal events in Cumberland, WI, we're here to give you the lowdown about what's going on in the community. Check out these fun and exciting Cumberland events going on in November that the entire family can enjoy, and get out to meet your neighbors and new friends.
Tree Lighting Ceremony
Come to visit the annual Cumberland Tree Lighting Ceremony! Held every year around Thanksgiving, this ceremony officially kicks off the holiday season in our town. Mainstreet will be closed for the event, which takes place on Tuesday, November 21, 2017 on Mainstreet. The festivities begin at 6:00 PM, with the lights turned on at 6:35 PM. We will have Christmas carols, refreshments, and in house specials offered by some local businesses. It's the holiday event of the season!
Traditional Thanksgiving Dinner
Das Lach Haus banquet center will be hosting their annual Cumberland traditional Thanksgiving Dinner this year on November 23, Thanksgiving Day, from 11 am to 2 pm. Enjoy Das Lach Haus' outstanding catering in a fun and jovial atmosphere, and save yourself the time and hassle of cooking this year! Reservations are requested for parties of more than 8 people.
Small Business Saturday
Black Friday is the biggest shopping day of the year, but Small Business Saturday, the next day, is more important, especially to local communities. Hit the streets of Cumberland to explore the wide range of small shops and independent businesses in our community. Enjoy special deals all day, and promote entrepreneurship and the American Dream by supporting our local businesses on Saturday, November 25.
Bentleyville Tour of Lights
Join with Cumberland Community Ed and Turtle Lake for the Bentleyville Tour of Lights! This Coach bus trip will ferry you from the Cumberland High School to Duluth where you can experience the largest walk-through lighting display in the nation! You can visit Santa, enjoy free hot chocolate, popcorn, roast marshmallows and more. It's holiday fun for the whole family on Friday, December 1, 2017. Tickets for the bus trip are $30, and you'll need to register and pay at Cumberland High School by Friday, November 24.
Breakfast with Santa!
No holiday season would be complete without a visit to Santa Claus, and Cumberland flies him in special to have breakfast with kids of all ages at the Lakeside Restaurant. This year's Breakfast with Santa will be held on December 2 from 8 to 11 am. Don't forget to bring your Christmas list to tell him your holiday dreams this year!
Cumberland Events for the Holidays
Re/Max Northstar is proud to be your source for all the best local Cumberland events all year 'round. We're more than just Realtors; we're your neighbors, and we're committed to this community. Learn a bit more about who we are, and let us help you with all the information you need about the Cumberland area.