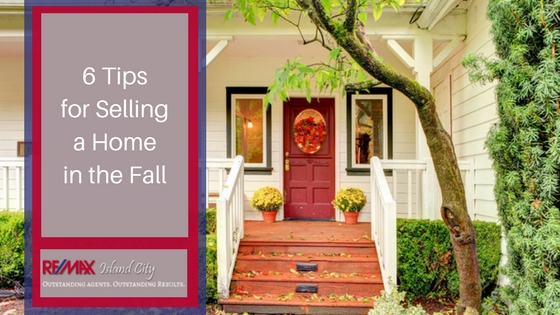 6 Tips for Selling a Home in the Fall
Fall is a hot time for the real estate market. It is, in fact, the second most popular time of year to buy and sell. At this time, everyone's back from vacation, the holidays haven't yet hit, the kids are back in school, and there's a long range of normal time with ideal weather. People tend to be in good spirits at this time of year, which makes them more amenable to purchasing.
Additionally, real estate agents look forward to this time of year, to getting houses off the market fast and for good, solid offers. Of course, this also means that competition is high, so you'll want to take all the right steps to get your home sold. Discover these must-remember tips and tricks for selling a home in the Fall, to get your house off the market for the best price and in the shortest time.
1. Selling a Home in the Fall
There are tons of advantages to selling a home in the Fall. Not only is the weather comfortable, but the views are gorgeous. As the leaves change color, it creates the kind of breathtaking vista that makes curb appeal a snap—almost any home can be made to look idyllic in these conditions. Check out some specific tips to get your house sold.
2. Clean It Up for Curb Appeal
Just because the fall leaves are pretty, though, doesn't make for automatic curb appeal. Make sure you keep your yard clean. Rake those leaves and let the colors accent, rather than overwhelm, the yard. Plant chrysanthemums and marigolds for gorgeous curb appeal, and keep your grass, hedges and edges trimmed.
3. Harvest Dressing
Use harvest dressing around your doors and windows. Squash, gourds, pumpkins (so long as they're not rotten!) and corn stalks are great decorations. Also, be sure to clean your windows inside and out! You'd be amazed at how much dirty windows can ruin the look of your house.
4. Scent Matters
You probably have no idea how your house smells, because you live there and are used to it. That's not to say it smells bad, but scent matters! Make sure your HVAC system is cleaned with a fresh filter. Steam the carpets and upholstery. Wash your curtains. Simmer some mulled cider on the stove or consider scented candles. Make your home smell like the harvest season, and you'll present a welcoming, homey atmosphere.
5. Accent Colors
Colors make the scene as well. Put away those bright pastels of spring and summer, and replace them with earth tones in browns and oranges. Use pine cones and other fall staples to create decorations and centerpieces. Hanging a decorative cinnamon broom on the door is perfect this time of year!
6. Listen to Your Realtor
As with selling a home any time of year, work closely with your realtor to get your home listed and sold. Your real estate agent has a lot of experience in staging homes for sale, and they will have outstanding advice for you to follow, helping you set your home up just right to sell fast and high. If you're in the Cumberland, WI, area and you need help with selling a home in the fall, contact Re/Max Northstar today!