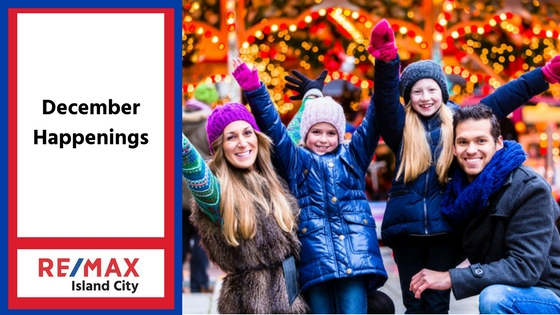 Here at Re/Max Northstar, we care deeply about our local community. After all, we live and work here as well—this is our community, too. As such, we like to give back, and one of the ways we do that is to offer a resource for all the great local happenings to our clients and locals every month. The month of December, of course, is focused on holidays, and there's a ton of great things to do for adults, kids and families. Let's look at the many December happenings in Cumberland, WI.
December Happenings in Cumberland, WI
Cumberland is a great place to work and live. It's a town where there's always something going on and fun things to do are around every corner. December happenings in Cumberland, WI, include a number of holiday concerts, live shows, a free movie and visit from Santa, community choirs and even free Christmas dinner!
Holiday Concerts
Holiday concerts are a tradition in many cities, and Cumberland is no different. These concerts will all be hosted by the Cumberland School District.
On Monday, December 4, at 7:30 at the High School Gymnasium, a High School Choral concert will be held.
On Monday, December 11 at 7:30 in the High School Gymnasium, the Middle School music presentation will be held.
On Friday, December 15 at 10:00 AM and 2:00 PM, in the Elementary School Gymnasium, the Elementary Pre-K classes through 4th Grade will hold concerts.
Finally, the High School band will play a concert on Monday, December 18 in the High School Gymnasium.
The Ghost of Christmas
Come visit the Cumberland Library and experience the Ghosts of Christmas with author, investigator, philosopher and lecturer Terry Fisk of Unexplained Research, LLC, on December 7 at 5:30 PM. Terry will discuss the unusual, and even scary and haunted history of some of the lesser-known and forgotten beliefs and customs from history.
The Nutcracker's Nuts
Join Cumberland Community Education as they travel to Day Tripper's Theatre for their presentation of, the Nutcracker's Nuts! This farcical take on the classical tale is adorable, hilarious, and charming fun for the entire family. When the residents of the Simon's Rest retirement home complain about their holiday program, they plan a production of the Nutcracker, not realizing that it's a ballet!
Free Movie and Santa Visit
On Saturday, December 9, 2017 from 1:00 to 3:00 PM, stop by the Isle Theater for a free holiday movie with Santa visit to follow! Be sure to have the kids bring their Christmas lists!
Community Choir Christmas Concert
Come to St. Paul Lutheran Church on Sunday, December 10 between 2 and 4PM for the Community Choir Christmas Concert. Enjoy your favorite carols and classic hymns performed by the beautiful voices of our local choir.
Free Christmas Day Dinner
From 11am to 1pm on Christmas Day, the Cumberland First United Methodist Church is proud to provide a free Christmas Day Dinner for all of those in need. If expenses preclude a good dinner for you, or if you just want somewhere warm and welcoming to be, this is the place to go. Call or visit the church for more information!
Re/Max Northstar
If you're looking to buy or sell a new house in Cumberland, Re/Max Northstar is your best source. We're proud to serve the local community in any way we can. For more information about these events, or about the local region in general, give us a call today!