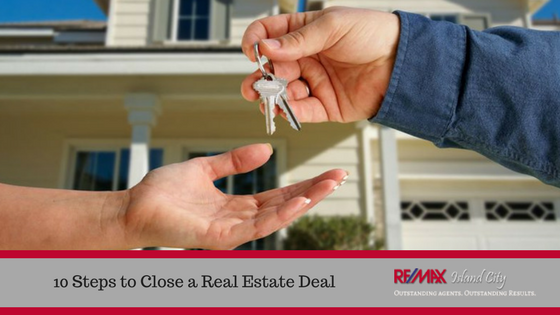 10 Steps to Close a Real Estate Deal
When you set out to buy a home, you have to deal with the process of closing. This process can be scary, arcane and confusing to those who have never been through it, and even for those who have, it can still be complicated.
At its most basic, closing is what happens when you sit down and sign the final papers to get the property transferred. It's quite literally closing the deal on the purchase. There's a lot of things that occur during these couple hours, and it can provide some comfort in knowing what each is. Discover and explore the steps to close a real estate deal, how the process proceeds and the role your Realtor plays in getting you into your new home.
Steps to Close a Real Estate Deal
There are a number of steps to close a real estate deal, and each proceeds in sequence. These steps are as follows:
     

Create escrow

     

Title search and insurance

     

Get an attorney

     

Get mortgage pre-approval

     

Closing costs

     

Home and pest inspections

     

Negotiations

     

Lock in interest rates

     

Deal with contingencies

 

Sign the papers
Create Escrow
The first step is to create an escrow or third-party account that will hold all the monies that will change hands until the process is completed. As you go along your hand money will go in here as will downpayment and closing costs.
Title Search and Insurance
Next, you'll want to conduct a title search and get insurance. This protects you against any pre-existing liens on the property that you may not have known existed.
Get an Attorney
Having an attorney is essential to make sure all the contracts are in proper order and your legal interests are protected. Your Realtor can be a big help, but there's no substitute for a licensed and qualified attorney.
Get Pre-Approval for Mortgage
Mortgage pre-approval is essential to the process. It gives you credibility when you make offers, and can greatly expedite the process of getting your actual mortgage done.
Deal with Closing Costs
There are a number of costs you'll need to deal with besides the purchase price of the house. Fees for things like application review, administration, appraisal reviews, ancillary costs, processing, settlement and more. These are called closing costs and you may want to negotiate them down.
Get a Home Inspection
Have a professional inspection done to look for issues with the house, including pests, wiring, structural and plumbing problems. This will give you leverage in negotiations and help you avoid unpleasant surprises later.
Negotiate the Price
Now, negotiate your offer. You want to get as low a price as possible, and you want a house you can live in for years without problems.
Get Your Mortgage
Once you know what you owe, get your mortgage squared away and lock in your interest rate. Work with your lender to wait for the lowest possible rate before you lock in.
Deal with Contingencies
Check off all the things that could've skewed the deal. Make sure you can afford the purchase, that it's a good deal, and that all repairs have been completed.
Sign the Papers
Finally, sit down and sign the papers. Congratulations; you're now a homeowner!
Rely on your Realtor to get through this process; it will be confusing at times, but your agent is your best ally and will get you through it. For Realtors you can trust in Cumberland, call Re/Max Northstar today!