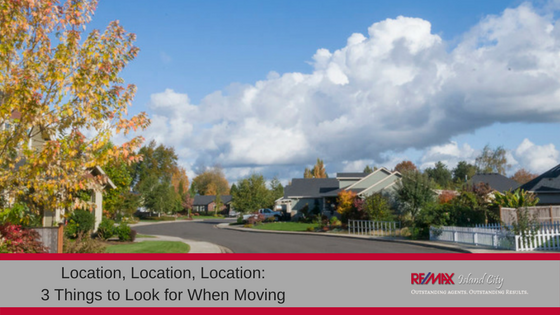 Location, Location, Location: 3 Things to Look for When Moving
"Location," the home perk we realtors find so nice, we like to say it thrice! In fact, we would hardly call location a perk since it actually defines the "estate" part of Cumberland, WI real estate.
See, a house is just a structure. You can have a multimillion dollar mansion on a poorly located piece of land, and it ends up upside down in value in ten years if no one maintains it. Yet, you can have a ramshackle home on a desirable piece of land and still sell the property at a premium price. As soon as the dilapidated home is razed, a newer structure can restore the land to its proper value.
So, home values are highly variable, while land values have much more entrenched pricing trends. Hence, why location matters so much.
To communicate the importance of location further, consider the following benefits that a desirable location can have on your home ownership experience:
Shorter Commute
Too many people decide that they will buy a home where property values are cheaper and "just commute" an an hour or more every single day to get to and from work. The sheer magnitude of impact that commute has on your body is impossible to measure, but it's actually more severe than one might think.
Medical research shows that long commutes are bad for your health. Not only are they inconvenient and rack up transportation costs, but they also make you sicker and more miserable . Therefore, a convenient commute is paramount to consider when choosing a home location.
Zoned in a Good School District
Education is everything when it comes to giving children opportunities. Without a solid foundation in learning, your child will have a lower chance of being able to adequately provide for a family of their own some day. Living inside a decent school district may sometimes cost you a bit more in terms of property taxes, but the benefits pay for themselves when your child is able to go to a good college and secure a high-paying job afterwards.
But what about people who don't have kids? They, too, actually benefit from living in a good school district! Historical real estate trends show that property values increase more steadily in areas where young families tend to move in, and a community full of families also tends to attract better services and better-paying jobs as a result.
Nearby Amenities
Living in isolation can have its own benefits, but eventually you will tire of having to make the trek for basic provisions and entertainment. By that token, the best neighborhoods feel slightly off-the-beaten path with low-density housing and plenty of tree cover, but still have access to stores and services that make living a little bit easier.
Speaking of living, having a location near an emergency medical department is also critically important in order to handle unexpected accidents or acute healthcare needs.
Find the Perfect Mix of Location and Price in Cumberland, WI Real Estate
Cumberland could be best summed up as "quality over quantity." We are a small community with great schools, great businesses and an optimal location near critical services like emergency medical care. Find your perfect, affordable home in a perfect location when you work with our Cumberland, WI real estate agents today!