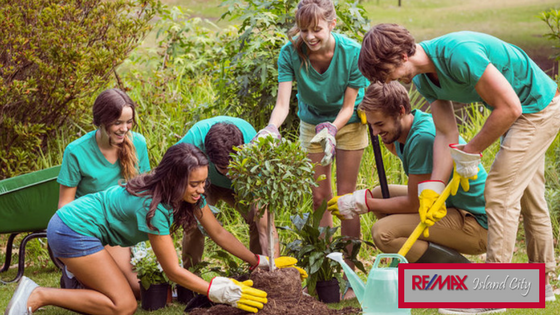 Local Grassroots Organizations
Usually referred to in terms of political or economic groups, grassroots organizations can really be any number of groups that use the local population to create a movement that affects real change in a community or region, or even at the national level. Grassroots organizations are truly dedicated to their community and care deeply about the issues that affect their communities.
If an area has strong grassroots organizations, you can be sure that it has a caring and deeply connected community. Cumberland is just such a neighborhood. Learn more about two major Cumberland grassroots organizations dedicated to improving our overall community and lifestyle.
Local Grassroots Organizations
Local grassroots organizations do a lot more than just push a political or economic movement. They're groups that serve their community. They organize cleanup teams, fundraisers, and do whatever they can to improve the region — and the lives of the people. They're a great way to get involved with community issues, to meet new friends, and to get acquainted with your neighbors.
Two of the best local organizations involved with grassroots area issues include Shooting Stars and Cumberland Community Cares.
Cumberland Community Cares
Cumberland Community Cares is an organization that was first established in 2009 by the families of Austin Ricci and Colleen Lundequam, in their memories following a tragic loss. The organization was created as a 501c(3) charity group and hopes to help others in the Ricci and Lundequam names for many years to come.
The Cumberland Community Cares group has raised over $16,000 over the years in scholarships, gas cards and even meals to many families in need. It has helped people suffering from serious illnesses, has aided car accident victims and those who have suffered from tragedies like fires and explosions. This is an organization that truly is all about giving back.
You can get involved by attending any of their local events, donating to the cause or applying to be a volunteer.
Shooting Stars
Another local nonprofit, Shooting Stars seeks to build and increase awareness of the need for emergency healthcare for children and to provide hospitals and families with emergency care bags for kids from infancy through 21 years old. It was formed by a group of adults who have been through pediatric emergencies and suffered everything that comes with them.
Families dealing with these problems have a lot to cope with, and the basic daily essentials can often go by the wayside when you're worried about your child. Emergency care bags from organizations like Shooting Stars can offer a great deal of relief to families who didn't think to bring things like basic toiletries from home. These bags include things like calling cards, writing utensils, combs, tissues, shampoo, bottled water, toothbrushes, toothpaste, and deodorant.
If you'd like to help Shooting Stars, they're always looking for donations or volunteers!
Cumberland Neighborhood Resources
If you're looking to move to Cumberland and are looking for resources about Cumberland grassroots organizations or any other information about the area, RE/MAX Northstar can help. Meet our team and contact us to start your search today!