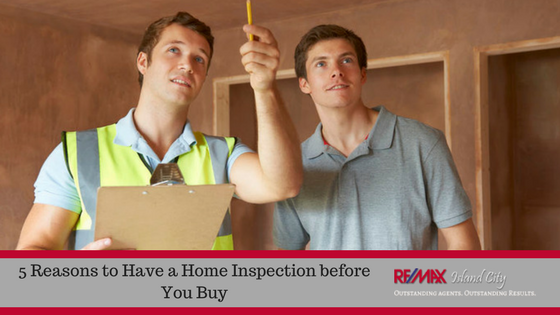 5 Reasons to Have a Home Inspection before You Buy
Buying a new home is both stressful and exciting at the same time. In fact, in the excitement of the moment, many people accidentally overlook some very important elements of the process. When you buy a home, what happens if a year down the line things start to break down? The repair costs can be very expensive and can turn your dream of home ownership into a nightmare.
One of the best ways to avoid these kinds of unpleasant surprises is to have a home inspection done. This is a vital part of the process, and there are many reasons why it's not something that should be overlooked. Discover five important reasons to get a home inspection before you close on the purchase of your new house, and how your Realtor can help.
Get a Home Inspection and Catch Problems Early
Even a completely new construction can have problems that can't be seen right away. Mistakes happen by contractors and sometimes they go unnoticed or even get covered up. The home could have wiring issues, plumbing problems or easement issues that might not be apparent when you first look at the home. A home inspection can reveal these problems before they get costly.
Savings on Repairs
You're going to pay between $300 and $500 for a home inspection, on average. That might seem like extra cash you don't have when you're making an investment in the tens or hundreds of thousands, but consider this: rewiring or re-plumbing the entire house can cost thousands. In the end, that couple hundred bucks is a savings.
Advantage at the Negotiations Table
Having a home inspection done will give you some power at the negotiations table. Let's say that you're interested in the home, but it's just over your budget range. Having a home inspection on the table can give you a lot of leverage when it comes time to bring that price down.
Avoiding Repairs Entirely
While getting a home inspection can warn you about things you'll have to address down the road so you can prepare, it can also help you to avoid repairs entirely. If there's something that is about to go bad — the roof has a few weeks left on it, for example — you can actually push for the seller to repair the issue before the sale moves forward.
Be Educated and Informed
The best reason to get a home inspection is to simply be informed. Knowledge is power, as they say, and it's true. You want to research any big purchase you make to avoid surprises down the road, and keep surprises to a minimum. This will help you to make the best decision before you make such a huge purchase.
How Your Realtor Can Help
If you're wondering where to start with your home inspection, your Realtor can point you in the right direction. Realtors often have a network of professionals with whom they work, from lenders to home inspectors, and they can give you a recommendation for a solid service.
If you're looking for a home in the Northstar or Cumberland area, call Re/Max Northstar and get to know our team today!