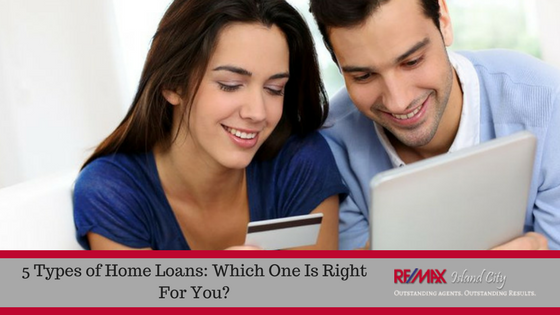 5 Types of Home Loans: Which One Is Right For You?
When you're shopping for a home, the first thing you want to do is secure a pre-approval on your mortgage. Having a pre-approval letter can greatly expedite the process of buying a home, and it also gives you some credibility when you make an offer. However, you shouldn't just jump into the first home loan that comes your way. The days of all mortgages being the same have been over for a very long time.
The kind of mortgage you seek will depend on a range of factors from where you move to how long you're planning to stay there and more. Read some tips, tricks, advice, and thoughts on how to pick from the many types of home loan and save money on fees, interest and down payment.
Types of Home Loan
There are many types of home loan to cover just about any financial situation. These include fixed-rate, adjustable-rate, FHA, VA and Bridge loans, among others.
Fixed-Rate Loans
Fixed-rate loans are the most common form of mortgage, especially since the real estate bubble burst in 2008. This kind of loan gives you an interest rate that will never change for the entire life of the loan. If you get a 5% rate, it'll be 5% on day one, and 5% fifteen or thirty years down the line. If you're all about predictability and stability, this is the way to go.
Adjustable-Rate Loans
Adjustable rates are a good way to start off with a much lower interest rate than you can typically get with a fixed rate loan. Usually, they are good for a set number of years, but after that period, they adjust based on whatever the current interest rate is every year. This means sometimes your monthly payments will go way down, while other times they'll skyrocket. If you have bad credit, this is a good way to get a loan, or if you're looking for a short-term buy.
FHA Loans
FHA stands for Federal Housing Administration. These kinds of loans help you to offset high down payment requirements that other loans have. Most mortgages require as much as 20% down. An FHA loan can reduce that to as low as 3.5%. However, an FHA loan is limited in the total amount you can get.
VA Loans
A VA loan is administered by the Veterans Administration and is available to those who have served in the U.S. military. If you've served 90 consecutive days during wartime, 180 peacetime days, or six years as a reserve, you may be eligible, but there are strict requirements on the mortgage itself.
Bridge Loans
Bridge loans are great for buying a home before your previous home sells. It allows you to roll your current mortgage into your new one, and you can pay off the prior mortgage when your old house sells. This requires great credit and you can only finance a maximum of 80% of both homes' values.
Work with Your Realtor
These are just five of the many different kinds of home loans available. If you're unsure where to start, work with your Realtor. They can advise you not only on the best mortgage option but on excellent lenders with whom to work. If you're looking for a Cumberland area property, call Re/Max Northstar today.