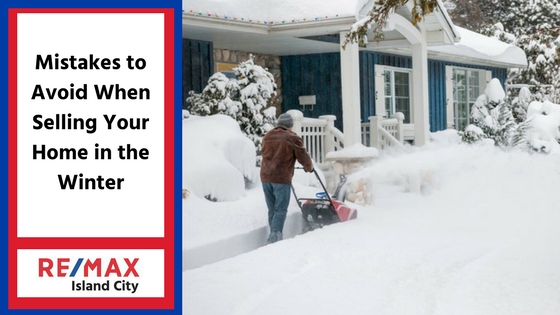 Mistakes to Avoid When Selling Your Home in the Winter
Winter is here, and with it comes a whole new set of challenges you have to face, especially if you're trying to sell your home. The primary season for the housing market is the summer, so you're already starting with a disadvantage when trying to sell your home in the winter. However, that doesn't mean there's no hope or that it's a bad decision.
Selling your home in the winter can be a profitable and pleasant experience if you know what you're doing and get the help of excellent realtors like those at Re/Max Island City. All you have to do to improve your results is avoid these common mistakes. Learn more about mistakes to avoid when selling your home in the winter.
Leaving the Snow
You may not think about it too much if you've cleared the driveway, but snow can be a huge hindrance to your main entrance. If you enter through the garage every day, it's easy to forget that your front door even exists. But potential buyers aren't going to be entering through the garage.
Make sure your guests have a clear path by shoveling all the intrusive snow away from the walking paths. It's also helpful to sprinkle some sand or salt around to ensure it doesn't freeze up. The sidewalk may not technically be your responsibility, but it'll be really nice if potential buyers don't have to worry about snow there either. When you create a nice walking path for everyone, they'll be in a much better mood once they make it inside.
Neglecting the Heat
The winter is cold, especially in Cumberland. Your potential buyers will be all bundled up for the weather, but that doesn't mean they'll be happy dealing with the cold inside. Make sure your home is warm and inviting and it's noticeable the second they walk in. When it's warm inside, they're also inclined to stay longer which increases your chances of getting an offer.
One of the most important things just about any potential buyer is looking for in a home is a working HVAC system. If you're neglecting the heat, they might get it in their head that the HVAC system isn't working as well as it could be which is an absolute deal breaker for many homeowners.
Cultivating a Dreary Mood
The winter is, put simply, sad. The trees have lost their leaves and other plants look decayed. To compensate for this, your home needs to look supreme. Make sure it's well lit and the windows are clear without any blinds or curtains blocking the natural light. For an added bonus, you can get some nice music playing preferably classical. Just make sure it's a playlist. You don't want any commercials.
Visually, your home needs to look stunning, but more importantly, it needs to smell great. Smell is one of our senses most closely associated with memory, so it's sure to leave an impression. Just make sure you don't overdo it. Freshly baked cookies are a good call, but a candle in every room might be overpowering.
Sell Your Home in the Winter with Re/Max Island City
Now that you know which mistakes to avoid when selling your home in the winter, it's time to find a realtor to help, and there's no one better in the Cumberland area than the professionals at Re/Max Island City. Contact us today and we'll help you sell your home no matter what time of year it is.