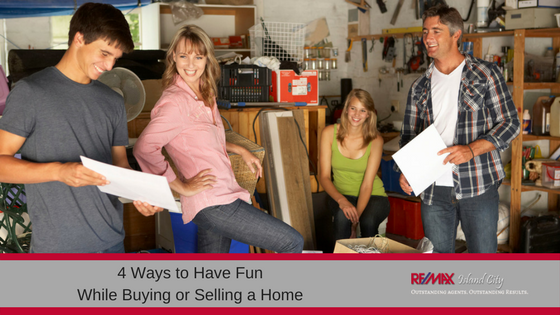 4 Ways to Have Fun While Buying or Selling a Home
Real estate transactions are much less stressful when you have a Cumberland, WI real estate agent at your side. They can help you find a little breathing room and maybe even some opportunities for fun!
That's right: fun! When you are not having to decipher mountains of paperwork, stay constantly on the phone scheduling showings, or obsessively looking at comparable listings to determine a fair market price, fun can be possible even when you are buying or selling a home.
So, the next time you feel a bit frazzled during your home sale or purchase, look to the following activities to unwind and maybe even let out a smile or two.
Start Getting Inspired About Home Décor
Moving into a new home is an incredibly exciting time, particularly at first. You get to quickly make your mark on your new space and express your inner style. You also get to "nest" and add comfort to your home as it becomes more "you" over time.
Get inspired for these early moments by taking a look at creative home style magazines and websites. You can also start a new Pinterest board just for your new house. Keep track of all the styles, ideas and moods your new home can be capable of, and then you can hit the ground running with ideas to make your new home fantastic.
Start Planning a Garden
The outside of your home will need just as much TLC as the inside. You can get a head start by sketching out your plans for landscaping or designing a space for a charming garden. You can even go ahead and purchase some of your favorite plants to give them some love before they are even in the ground.
Sprout seedlings for your veggie garden, or buy some of your favorite ornamental plants and nurture them in gradually larger pots. By the time everything is ready to go into the ground, you will have mature plants that are better-prepared for their new home.
Cut Down on Clutter With Yard Sales, Donations, Giveaways
As a good friend once said to us: "moving keeps you honest; you figure out just the things you really need." As for everything else, start making piles! Some of your belongings would make great inventory for a yard sale, which can also help you put a little extra cash in your savings for potential future home repairs. Some items may be better fit for giving away to friends and family, or they should be donated to your local charity thrift shop.
Once you start separating everything into categories, it becomes much easier to pare down your possessions for a much lighter, easier move.
Start Bargain Hunting for New Furniture
Part of nesting is finding the perfect furniture pieces to fit each room. With all of the cheap options available for finding furniture, you don't even have to stress your credit card further, either.
Take a look at thrift stores and reasonably priced vintage stores in your area. Start reading circulars and marking big sales or discounts on your calendar. You can even hunt around on Craigslist or Facebook marketplaces to find a well-loved piece of furniture at just a fraction of its retail price.
Start Planning a Housewarming Party
After all the work you put in, nothing offers a greater reward than a relaxing evening entertaining and catching up with friends. You can start sending evites or building a new Pinterest board just for your amazing party to build anticipation for the moment when you finally have everything taken care of.
Make Time for Fun by Working With a Cumberland, WI Real Estate Agent
Whether you are looking for a buyer's agent or a seller's agent, having a realtor at your side can ease up the pressure during a home sale and let you take well-deserved moments to enjoy yourself. Take the load off your shoulders today by speaking with one of our Cumberland, WI realtors now.