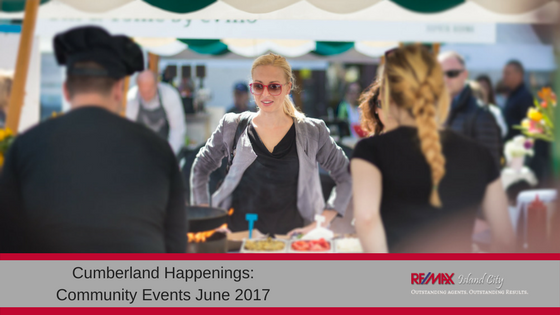 Cumberland Happenings: Community Events June 2017
Greetings, Northstar locals and members of our extended community! We hope that the summer breezes and the kids being out of school have hit all the right high notes for your season so far. You can get even more into the spirit when you participate in some of the fun, local things to do in Cumberland this summer.
You can catch plenty of fun in the sun, for instance, at our free Northstar Music events every Tuesday afternoon at the shores of Library Lake. You can also see some local theatre this weekend in addition to participating in a fun run that offers the best t-shirts around.
So start marking your calendar and learn about all the local fun that living upon Cumberland, WI real estate can offer by taking a look at the upcoming events below.
ETC Presents Charlotte's Web
The Cumberland ETC Theatre proudly presents Charlotte's Web as its latest production. The last days to catch this show occur this Thursday June 15, Friday June 16 and Saturday June 17 — all at 7:00 p.m.
Kids and adults share the stage in a classic production based on E.B White's novel, Charlotte's Web. Charlotte, the talented weaving spider, and young Fern attempt to save the life of talking pig Wilbur, who must live up to his reputation as "some pig" in order to avoid becoming bacon. Catch the show to enjoy great costumes, scenery and the hard work of Cumberland actors of all ages.
Louie's Bacon Fun Run/Walk
Local favorite Louie's Finer Meats is hosting their 2nd annual Louie's Bacon Fun Run and Walk. The Fun Run is only two miles, and the Walk is just one mile, so people of all fitness levels can enjoy and participate! Registrants receive an awesome t-shirt as well as free bacon samples and a discount token for completing the course.
The event takes place on Saturday, June 17 at 9:00 a.m. Register here.
Cumberland Healthcare's Golf Classic Scramble
In an effort to raise money for Cumberland Healthcare's amazing hospital and clinic system, the Foundation is hosting its 5th Annual scramble-style tournament. The event takes place on Tuesday, June 20th, with registration beginning at 1:00 p.m. and the shotgun start at 2:00 p.m.
Entry into the tourney costs $50 per person ($30 for Cumberland Golf Course members), which includes nine holes, a cart, and a catered dinner. A raffle and silent auction follows dinner, which begins at 5:00 p.m. Those interested in just the meal, silent auction and raffle can participate for $20.
Take a look at their flyer for more information.
Northstar Music by the Lake
The annual Northstar Music concert series has already kicked off, and it will continue all summer long through August 15th. As always, admission is 100 percent free! Families can make a day of it thanks to the school district's kayaks, which can even be taken out on the water during the concert! They are also encouraged to bring blankets or lawn chairs so that their listening experience can be as comfortable as possible.
Up next in the series is a show from fiddler Randy Sabien on June 20 followed by the Blue Hills Band of Birchwood on June 27.
Thirsty Thursdays at Bistro 63 in Barronett
Catch live music, drink specials and tasty bites every Thursday from 5:00 p.m. until dark at the Bistro 63 deck in Barronett, WI.
Taste in Cumberland
The most delicious event in Cumberland is back for its sixth run! The 6th Annual Taste in Cumberland will take place at the Cumberland Golf Course on Monday, June 26 at 5:30 p.m. until 8:30 p.m.
Local vendors, restaurants, breweries, wineries and more will all be offering tasty samples and selling delicious meals and drinks. You can also win prizes and listen to live music featuring Bare Minimum. Proceeds go towards the Boys & Girls Clubs of Barron County and the Cumberland Youth Center.
See the Best of Cumberland This Summer While Living on Gorgeous Cumberland, WI Real Estate
There is no better way to enjoy the best that summer in Cumberland has to offer than from a quick walk, bike ride or drive from one of the charming homes for sale in Cumberland. Find your new home in our community by taking a look at our local Cumberland, WI real estate listings today.